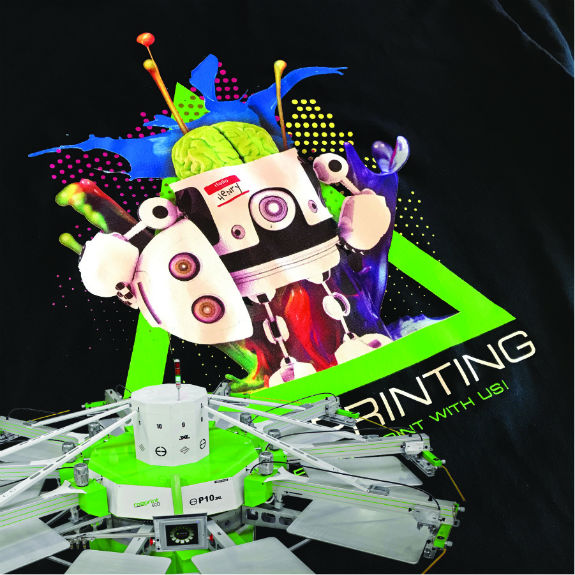 "If you do what you love, you never work a day in your life!"
What do you get when you take people that are not only passionate but truly do love what they do and pair them with state-of-the-art equipment, proven processes and extensive resources? Better Service. Better Quality. Better Prices!
From first contact to finished product, Hi-Def Printing is here to help along the way. Our extensive experience and passion show in every step of the process – you will always be in capable hands ready to turn your ideas into reality.
It all starts with our easy quoting process and extensive garment selection through our talented designers capable of creating anything imaginable to the final production in our state-of-the-art facility. Stringent processes ensure consistent quality time after time. From simple to high end retail, we have you covered. Looking to take your brand to the next level? Email us today for a quote or schedule your appointment here.
Hi-Def Printing features state-of-the art equipment capable of handling any size order on time and budget. From our superior art separation, pre-press and screen prep to production on our next generation automatic presses – Hi-Def Printing has you covered with stringent processes, consistent quality and superior results. No matter if you are looking for simple 1-Color work shirts, multi color prints or high-end simulated process – we are your best source. Extensive Ink options, custom mix colors and different finishing options will assure the best result for your specific project. No matter if Plastisol, Waterbase, Discharge or Hybrid Inks – we will guide you through your options and help pick the perfect garment and ink. Ready to get started? Email us today for a quote.
Let our experienced team turn your design into a piece of art. If you are looking to elevate your attire, we are here to help! Hi-Def Printing utilizes only highest-grade Madeira threads to ensure a quality that lasts – our wide range of standard and specialty stabilizers ensures lasting quality and a timeless look. Looking for special effects? Metallic, 3D Puff, Patches and more – we have you covered! Let's turn your project into reality, email us today for a quote.
Spot sublimation or cut and sew – we are here to help. Looking for that vibrant color without any feel, performance without compromise? Talk to us today and explore the world of sublimation printing. We do offer a wide range of products and garments from work shirts, polo shirts to team uniforms and more. Email us today for a quote.
Over the past 35+ years we have worked with many extraordinary partners from virtually every industry. Our past and present customer base spans most of the US, from small businesses, local and state agencies, government to fortune 500 corporations. Our customers do value their privacy, but include high profile construction companies, Westcoast based coffee roasters, industrial giants in the Northern States to Southwestern based brewing companies, restaurant franchises and more.
I was completely blown away by the phenomenal customer service I received from them, I had a last-minute order for a 5th grade party of 160 shirts. They came out better than I could have ever imagined. He truly saved my event, and I can't thank him enough. I will be referring everyone I know to HI-DEF PRINTING.I can't wait for my next order. The quality of the printing is amazing too. Thank you!!
CL
When we contacted Hi-Def Printing, we were in a pinch. Our former printer had left us high and dry on a deadline order for an important merch drop event. Not only did Hi-Def printing pick-up the slack, but they also delivered ahead of schedule and the prints were far superior with a soft feel and vibrant colors. We have since switched all our apparel orders to Hi-Def Printing and can't recommend them highly enough.
KB
After contacting over half a dozen well-known outfits in the Cleveland area that were unable to help us, we finally found Hi-Def Printing. We were looking for someone that can embroider dress shirt collars and get the new uniforms to us before a big trade show event. Not only did they deliver in time, but the quality was also great and the price unbeatable.
SP
Hi-Def Printing has been handling all our apparel needs for various companies we own. We are really happy with the quality, price, and service. They always deliver on time and never fail to make us look good!
SW
Call Us Today
Cape Coral, FL 239-541-1144
Pittsburgh, PA 412-969-4274
Hours of Operation
Monday-Friday 9am-5pm
Showroom open by appointment only 
Virtual Appointments available